Elite Air Duct Cleaning - Richmond Texas
Have you been seeing a lot of dust on your furniture even after you have dusted them? In case you have, this might be an indication that you need home air duct cleaning. When was the last time that you had your ducts professionally cleaned? If you can't recall or if you have never done it even though you have been in your house over a decade, it might be a good idea to call Elite Air Duct Cleaning.
We are a commercial air duct cleaning service in Richmond TX that gives homeowners the help that they need to get their ducts clean. After many years of pulling air from outside to cool your home, your air ducts could have become a good hiding place for dust, dirt, pollen and insect remains. If these things are not removed, they get pumped into your home and could get you sick.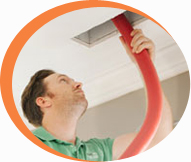 If you need help Cleaning Air Vents for your home in order improve the air that your family breathes, call us. We have a team of people ready to help you with the service that you need in a short time. We always respond quickly when clients need help.